Marine Aviation Survival Training (MAST) Facility
Marine Aviation Survival Training (MAST) Facility 

This revolutionary training facility, designed for use in water survival and underwater egress training for the Oil & Gas, aviation, and marine sectors, is anchored by a (25m length X 14m width X 5m depth) pool with extreme environmental effects. The MAST facility is able to create the ultimate practical training experience in simulated real-world conditions for personnel working in harsh or high-risk conditions.
This facility will meet SSTL's ongoing requirements for size (pool area available for multiple training programs), practical training elements, and current training technology (equipment, best practices). This new facility will allow us to further our contribution to R&D with the use of environmental effects that simulate real-world conditions.
Structure General Specifications
Steel-framed, freezer panel cladded building conducive to cold weather training
Inside building height of 50'
25m X 14m X 5m uniform depth (pool) with 1m freeboard
7M pool aprons with available pool deck space for staging equipment 448 sq. metres
24 trainee capacity classrooms (2) and conference room (each 20' x 24') with the latest Smartboard 70" touchscreen technology
Change rooms / washrooms
Wave Generating Hardware
The Tempest range of wave generators are designed to produce a range of very realistic sea conditions within a controlled environment.
The equipment has been refined over the last 25 years to give unrivalled performance both in terms of wave characteristics and long term reliability.
The Tempest wave generator is capable of producing waves anywhere from 500mm to 1800mm high all controlled from a remote panel allowing the operator to vary the wave height or formation at the flick of a switch.
In addition we have designed special wave absorption chambers that ensure accurate repeatability of any wave formation, thus making any survival training exercises the same for every group of users.
Read More about Wave Generating Hardware
The MAST is verified for the testing of:
Marine Immersion Suits as per the requirements in CAN/CGSB 65.17-2012 Water Ingress
Aviation Liferafts as per the requirements of FAA TSO-C70a Sections 6.2.3.1 Water Tests and 6.2.3.2 Sea Trials
Environment Effects
Waves
Tempest 4-chamber wave system
Capable of replicating realistic sea states with up to 1.9 m waves 7 different consistent sustained wave patterns
SSTL is also an authorized distributor of the
Wave systems by Tempest
(Visit Website)
Wind
Two hydraulic, purpose built variable wind generators capable of up to 100 KM of wind speed.Each equipped with 6 rain nozzles.
Rain
Up to 100 psi 7 nozzle, overhead deluge rain-making system
Fog
Two theater max, sea smoke and fog generators
Sound and Visual Effects
16 speaker, BOSE, DMX, theater surround sound.
DMX controlled tri colour LED pool and theatre lighting.
Lighting and sound systems integrated to simulate adverse weather effects including thunder and lightning simulations.
Training Technology
Underwater Escape Simulators
Shallow Water Platform
Depth and gradient adjustable
Staging area for training or equipment (testing) applications
Jumping/Diving platforms
Heights of 1m, 2m, 5m, 7m and 10m
Crane
5000 kg SWL Lloyd's Register certified, built for purpose, cross gantry, personnel riding bridge crane
Underwater Escape Simulators
Two UETS Model 40s configurable to Rotary Wing and Fixed Wing Aircraft configurations
Replica Ship's Hull
With gangway, scramble net and pilot's ladder
Helicopter Rescue Hoist
Breeze-Eastern 20200 Hoist
Static (7m platform) and dynamic (affixed to aircraft simulator) mounted
High Angle Rope
Internal and external anchors point for high angle rope rescue exercises.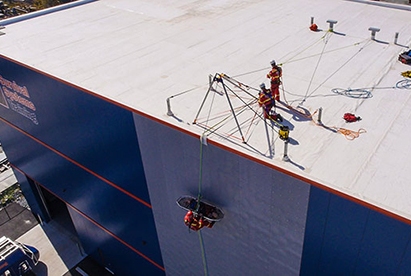 MAST Facility Overview

MAST Facility Demonstration

MAST Facility-Outdoor/indoor